In our last "Enneagram Insights" we looked at the relationship between leader and follower, and the role authority plays in this. At its best "good authority" enables the team to perform tasks, use resources, and make decisions that will help it achieve its objectives. Understanding authority and what motivates people to follow a leader is crucial to a team's success.
We can use the Enneagram to gain a deeper understanding of each person's relationship to authority based on their Enneagram type. As discussed last time, not only does the Enneagram teach us that all nine types have the potential to be great leaders, but all nine types have the potential to be great followers provided that each leader is aware of the underlying needs of the different Enneagram types.
Previously we explored the first four Enneagram type's relationship to authority, and in this edition, we will cover Types Five to Nine.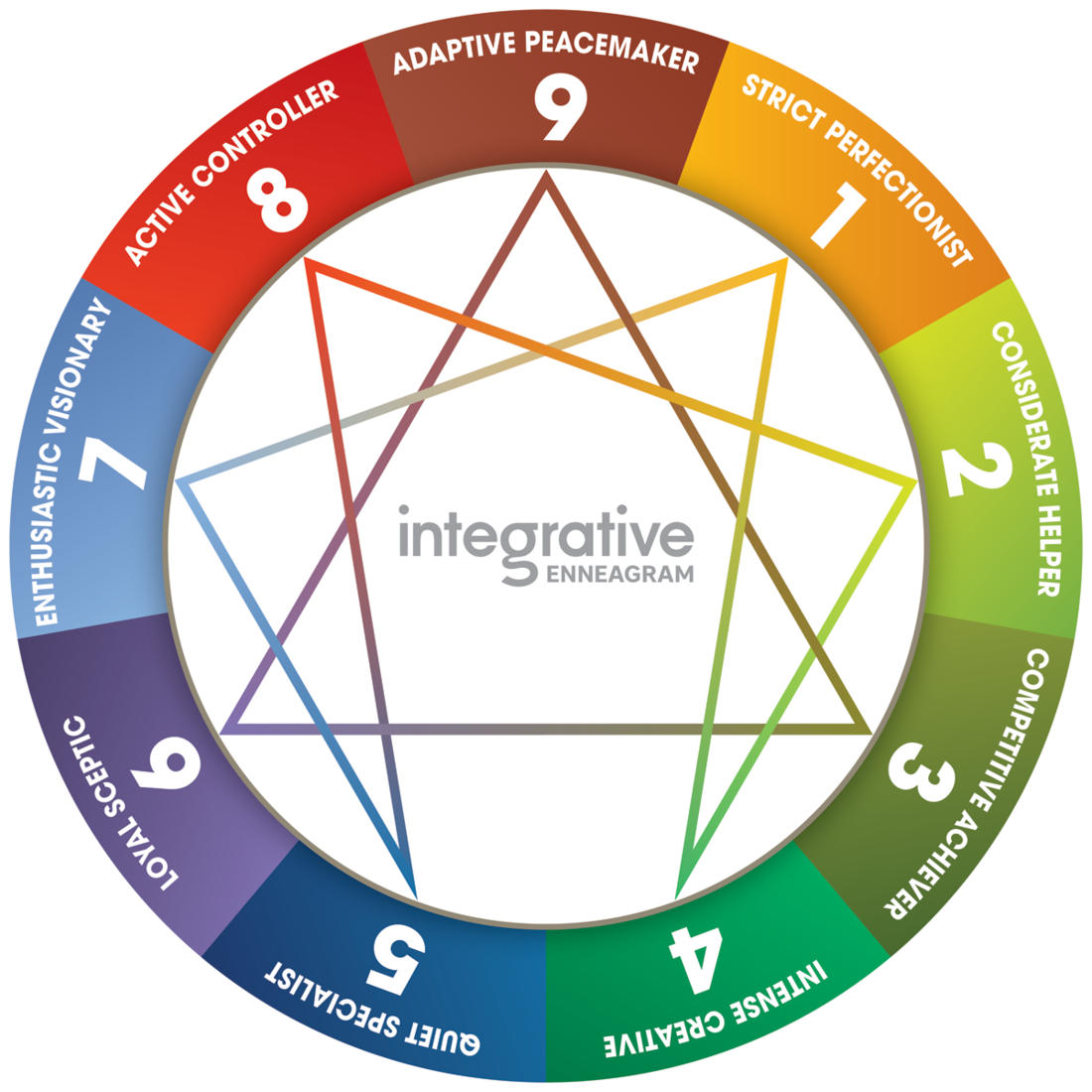 Fives
As one of the three types (Fives, Sixes and Sevens) that are based in the emotion of fear directly or indirectly, Fives can have strong reactions to authority. Driven by a need to understand the world, and to shield themselves from external threat or intrusion, Fives focus on protecting and managing their inner resources and producing results by collecting and analysing data. As keen observers, their need for autonomy and self-sufficiency makes them very sensitive to controlling their boundaries and resisting demands from the outside world.
Hence Fives' relationship with authority by default is to observe and evaluate authority figures, and to strategise how to manage that relationship. When there are clear boundaries, roles and tasks Fives can be efficient, hardworking and reliable followers, particularly if they are given autonomy and their own space. However, when stressed, Fives can tend to withdraw even further and passively resist authority, making them difficult to reach and manage. In this sense the Fives' relationship with authority is reliant upon having the freedom to move in and out without restriction, and on having a clear and valid purpose.
Sixes
Sixes have the most ambivalent feelings towards authority figures. Sixes want their leaders to make them feel safe while at the same time being watchful or concerned that the person in authority will not do so. In this sense, Sixes epitomise that part in all of us that carries a hope and fear about authority. They are both seeking "good authority", but fearful and mistrusting that the leader will enact "bad authority".
At their best Sixes are reliable, conscientious and hardworking team members. They are particularly devoted and supportive of a leader once she has gained the Six's trust, and when surrounded by dependable and trustworthy team members, Sixes are able to relax and work tirelessly for the good of the team.
However, their ambivalence can lead Sixes to have extreme reactions to leaders. They may idealise an authority figure they perceive as a good one, perceiving him as extremely good, effective, supportive, and respected. Should the leader display any behaviour that concerns the Six, the "fall from grace" can be extreme and the Six withdraws their support for her.
Similarly, Sixes can often find themselves implicitly or explicitly testing the trustworthiness of the leader. Having a heightened radar for risk and what could go wrong, Sixes' commitment and support of the leader in authority can easily swing around to the opposite. The One-on-One Six in particular is driven by a need to feel independent and overcompensate for any fear by rebelling or challenging authority. This challenging of authority may be focused on an individual in authority but can also be directed towards the organisation or some other authority structure. Sometimes this can even manifest itself in the form of aggression despite the fact that the One-on-One Six may not be aware of this. At times these Sixes can look a bit like an Eight, however the difference is that the One-on-One Sixes' aggression is driven more by fear than the need to be in control, like the Eight.
As Beatrice Chestnut says, "Being honest and straightforward, authentic and sincere, and dependable and reliable will all help you help your Six to learn to trust you, which is key".
Sevens
Sevens are driven by the desire to feel free and stay happy, and to explore all possibilities. As such they are often free spirited and creative thinkers, able to make rapid connections between disparate facts. As followers they are likely to be at their best when given the opportunity to tap into this free-thinking capability to produce innovative ideas, explore new horizons, and contribute energy and fun to the team. In this sense Sevens make enthusiastic supporters and champions of the team when they feel valued for their energy and ideas.
However, because Sevens are driven by the need to live their lives without restrictions, they can have an underlying resistance to authority. Although they are unlikely to openly rebel, this need to avoid any sort of (perceived) constraint will lead the Seven to implicitly deny the existence of authority, preferring to either ignore (or deny) the authority of their leader, or see her as more of a "friend" than their boss. By thinking of the person as their friend rather than their boss, they avoid the constraint and accountability of having to report to a boss. As Ginger Lapid-Bogda puts it "If I am friends with my boss, then he is really my friend, not my boss". If this doesn't work, Sevens may ignore the authority figure and focus on doing things their own way.
In some situations Sevens can become extremely rebellious and actively resist any limits put on them, even publicly challenging the authority figure. Applying a more controlling or punitive form of authority is likely to result in the Seven either "checking out" and withdrawing or becoming somewhat depressed and critical.
Eights
The Type Eight personality is driven by a need to be powerful and strong, and to avoid vulnerability. Whilst naturally inclined to take up their own authority and power, Eights have at the same time an acute sensitivity to being controlled by others and can believe that the common rules don't apply to them. Eights often typify the notion of "work hard, play hard".
At their best Eights bring an assertive energy to the team along with a willingness to be direct and honest. Eights prefer others to "say it as it is" and will explicitly encourage this, as well as role model it for the team. In particular, Eights respect leaders who stand up to them and tell the truth, "warts and all". As followers Eights are typically highly attuned to power and control, particularly who has it and who doesn't, but if they respect those in authority, they can bring confidence and a willingness to take on the tough challenges to the team.
Underneath it all Eights don't like to be controlled or told what to do and prioritise their own sense of right and wrong over a societal or external value system.In fact, many Eights are deeply anti-authoritarian, as they are often driven by their instincts, and therefore react strongly to any limitations imposed upon them. This can lead Eights to challenge authority and externally imposed rules or conventions, particularly if it does not align with their own values. When exercised in a healthy way Eights can play "devil's advocate" and challenge the status quo. However, in unhealthy forms of expression it can lead to explicit flouting of the team or organisation's norms and a willingness to operate outside the system.
Eights believe that authority is earned, not something that comes with a particular role. Therefore, if a leader earns their respect, Eights will be willing to cooperate and collaborate. If not, Eights will either ignore, challenge, or take over, particularly if they perceive the leader to be "weak". The role of follower is probably most difficult for the Enneagram Eight as they instinctively want to take over. However, if their leader can be direct, honest and give them enough autonomy, along with communicating the bigger picture, the Eight will work tirelessly for the good of the team.
Nines
Nines often come across as the most cooperative and supportive of authority. Driven by the need to get along, "go with the flow" and avoid conflict, Nines can work unselfishly for the good of the leader and the team. Because they can see all sides of a situation, Nines make excellent mediators and can be the glue that keeps the team together.
Consequently they often appear to have a positive relationship with authority. Indeed they are oriented to cooperating wherever possible and attuning to the team's needs, but can become highly stressed or withdraw if an authority figure causes tension or disharmony that the Nine wants to avoid. Additionally, being habitually "asleep to their own needs" Nines may say "Yes" when they really mean "No". In such cases Nines may act out their resistance passively through behaviours such as being late for meetings, not delivering projects on time, or disappearing. The implications of this for the leader-follower relationship is that the leader may think they have agreed to something and then be surprised when the Nine does not follow through on the agreement.
Although appearing cooperative and adaptive, Nines do not like being told what to do and hold on to a sense of independence while seeming to go along with others. As Beatrice Chestnut says, "Like Eights, Nines don't like being told what to do, but they are quieter about it, and if they feel overly controlled or disrespected by someone they can covertly stop cooperating as a way of asserting themselves without creating open conflict".
This can cause confusion between the leader and the Type Nine follower, and it will be important for the leader to make the effort to invite their input before giving directions and give them the opportunity to disagree.
Finally, the role of follower is as important to the functioning of a team as that of leader. There is no leader without followers. However, typically most of the attention and focus goes to what it takes to make a good leader, without first understanding what it might take to make a good follower, as well as what different types of followers need in order to perform at their best. At the heart of this is the ability to understand the concept of authority – how it is exercised well, and the different sorts of authority required in order for a team to perform effectively.
In almost all roles in organisations we will be both leader and follower. Understanding our relationship with authority through the lens of the Enneagram enables us to be more flexible and effective in how we take up our authority as leaders, and to be mindful of what each Enneagram type needs in order to follow. If we are able to see each individual's underlying relationship with authority this way, we are more likely to exercise "good authority" and avoid the disconnect between leader and follower that can prevent a team from achieving its goals. In this sense the Enneagram is a powerful tool that can enable both leaders and followers succeed together.
| | |
| --- | --- |
| Abrahams, F. (2005) | A systems psychodynamic perspective on dealing with change amongst different leadership styles. (Unpublished masters dissertation, UNISA). |
| Bennett, N., Wise, C., Woods, P.A. and Harvey, J.A. (2003) | Distributed Leadership. Nottingham: National College of School Leadership. |
| Chestnut, B. (2017) | The Nine Types of Leadership. |
| Lapid-Bogda, G. (2007) | The Enneagram in Business. |
| Maccoby, M. (2004) | Why People Follow the Leader: The Power of Transference. Harvard Business Review. |